Today we will talk about the use of virtual reality technology to create VR simulators.
To begin with, let's define what VR simulators are and what they are for. So, a training simulator is a mechanism, or a hardware-software system that simulates certain circumstances. They allow you to practice actions in those simulated circumstances. Simulators are needed to gain experience:
practicing sequences of actions
Responses to changes in circumstances
to increase the speed of decision-making in similar circumstances.
The experience gained makes it possible to increase the effectiveness of the actions of a trained person in such circumstances. That in turn increases the probability of safe and correct resolution of situations, minimization of risks and the costs associated with these risks, and sometimes the loss of life.
Today we are going to talk about two basic types of simulators: hard skills and soft skills simulators.
Hard skills are a set of technical abilities, "hard" skills, such as the ability to fly an airplane, a train, or other complex technical device. The ability, for example, to solve complex emergencies in transformer substations. In essence, it is the possession of specialized technical knowledge, and experience in applying it to a subject.
Soft skills, or "soft skills," are a set of supraprofessional skills. They are often related to skills such as:
conflict resolution skill
the ability to form and manage a team
the ability to work with people's motivation.
What unites all soft skills is the object of their application, which, unlike hard skills, is always a person. After all, all soft skills are connected in one way or another to communication with people. In general, a person's level of development of such "soft" skills is indicated by his or her "emotional" intelligence (EQ).
If you need to develop a VR simulator – contact us, we can help you in the development of training methods.
Hard skills VR simulators
A prime example of hard skills simulators is flight simulators in pilot training centers: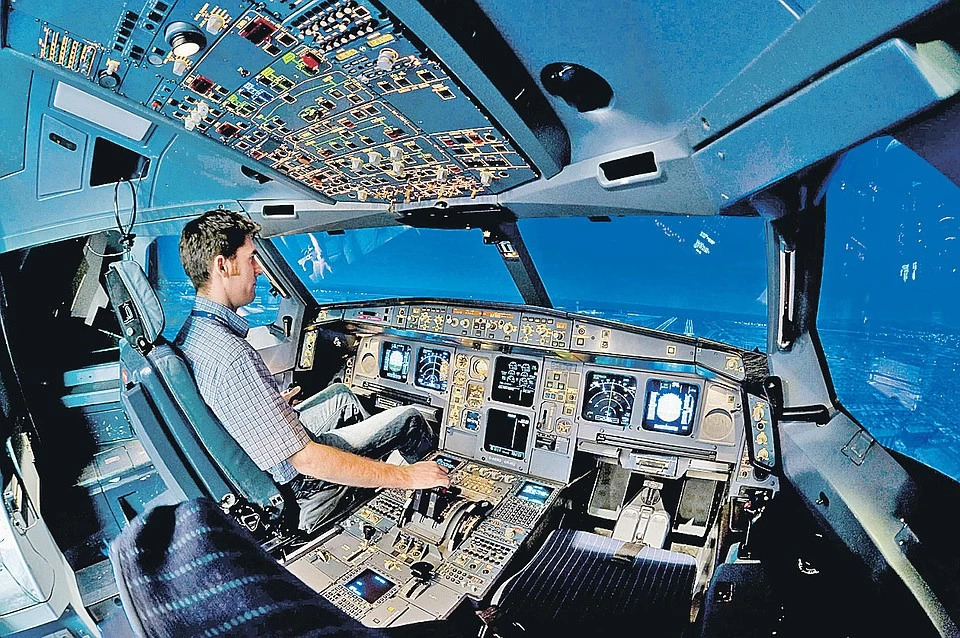 What are the advantages of hard skills simulators in virtual reality format?
In order to answer this question, let's first look at this infographic:

As you can see from this infographic, more memorability during training than the virtual reality format only for personal training by a specialist. The difference is not that significant. What does this mean? That with the help of virtual reality format is possible to automate the learning process, and its effectiveness will remain at a high level.
In fact, in order to gain experience in certain circumstances, the student can be in the simulation an unlimited number of times, and in doing so:
– no specialist involvement time is required
– there is no expenditure of resources to create and maintain the circumstances
In addition, it is virtually impossible to effectively simulate some circumstances, such as an emergency, a fire, or an accident. Any such simulations in the real world would pose a risk to the student's health and life. And the simulation of other circumstances will be associated with the expenditure of resources, space, and time of service personnel. And all of this is a multiple of training time.
In the case of virtual simulators, student time, electricity, minimum training space, and depreciation of equipment is taken into account, with the cost of a set of about $2,000.
– risks to the life and health of students are not generated. This means that risks of administrative and criminal responsibility of responsible persons in case of harm to health are not generated
– the number of training cycles is not limited
– simulators efficiency can be increased by improving the existing configurations using the accumulated application experience.
Soft skills VR simulators
In essence, the technical implementation of soft skills VR simulators is almost identical to hard skills VR simulators. The main differences are in the learning processes themselves. The main task of such a simulator is to form the most authentic emotional experience for the student. For example, in the case of simulating the situation of a sales assistant communicating with an aggressive customer, it is necessary to create a virtual character and simulate his behavior as authentically as possible. The entire environment and the characters must also be visually as realistic as possible, so that the student can have the most realistic experience and be able to apply it in a real situation.
What technical possibilities exist at the moment.
To create a training complex, it is possible to use existing equipment – to make integration with existing mechanical simulators. Integration of a virtual reality helmet into such simulators will allow for greater human immersion into the circumstances. This means achieving a more relevant experience to the target circumstances. Simulators with minimal hardware complex can be implemented when haptic feedback is not necessary. That is, when it is not a question of motor skills training, but only of remembering sequences of actions, regulations.
At its base, such a set may consist only of a virtual reality headset. Such as Oculus Quest or Vive Cosmos, Focus Plus. These headsets implement hand tracking, which allows you to transmit the movement of the hands and fingers of a person with an accuracy of a few centimeters. This means that all dashboards can be implemented in a virtual scene only. There is also the possibility of using additional feedback equipment and haptics. This is necessary in order to achieve a more authentic dive experience. Below we give a small list of equipment for VR simulators, their features and characteristics, as well as the cost.
Virtual reality headset
Oculus Rift S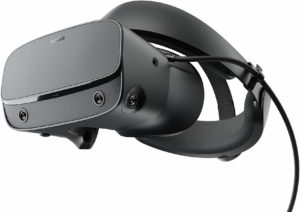 Specifications:
NVIDIA GTX 1050Ti/AMD Radeon RX 470 or higher; Processor: Intel i3-6100/AMD Ryzen 3 1200 or higher; Memory: 8GB RAM or more.
Price as of 01.12.2022: on average $1,400 on the market
Oculus Quest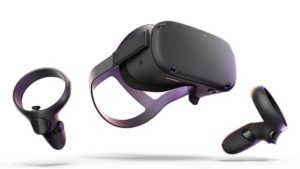 Specifications
OLED display type Resolution 1440*1600 per eye (the Rift had 1080*1200) 72 Hz refresh rate Qualcomm Snapdragon 835 processor 4GB RAM Lithium-ion battery, 2-3 hours of playback
Features: 6 degrees of freedom, head and hand tracking
Controllers: Two, touch controls Weight 571 g (Rift has 470 g)
HTC Vive PRO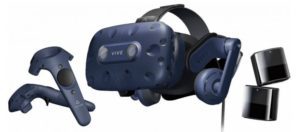 Specs: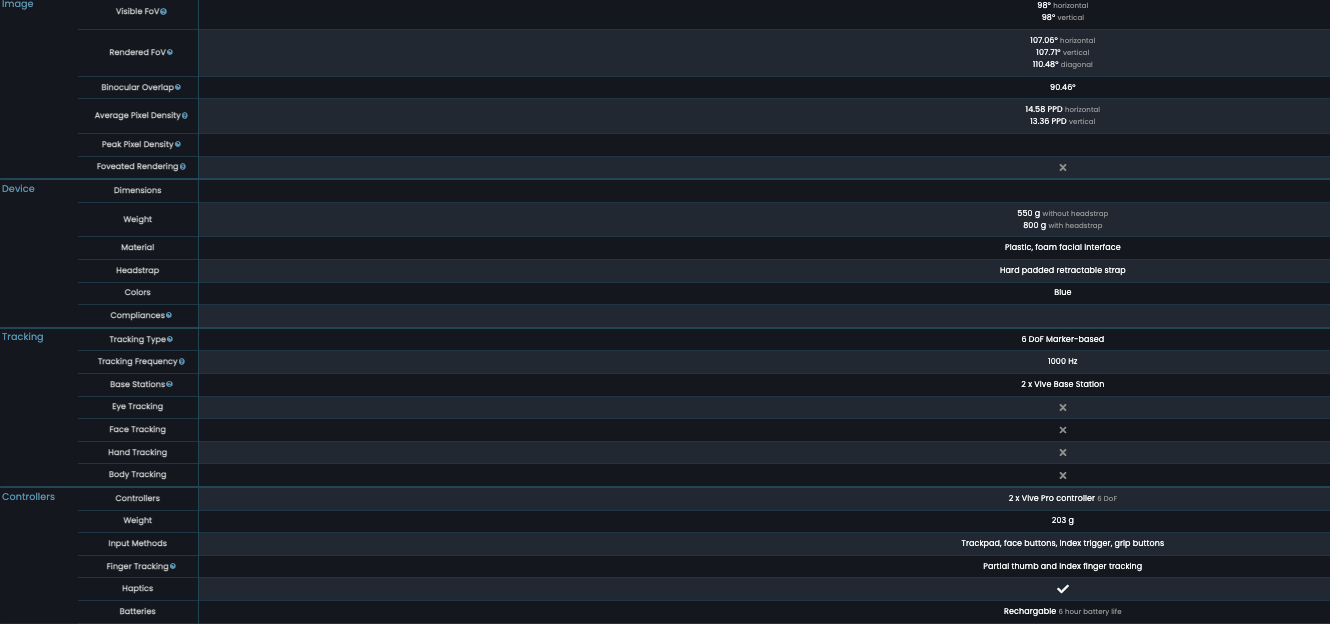 Vive Cosmos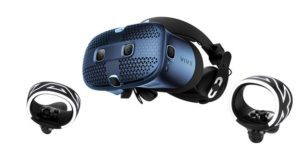 Specs:
Headset Specs.
Brief Highlights: Unprecedented presence with 3D spatial audio. …
Screen: Dual 3.4″ diagonal.
Resolution: 1440 x 1700 pixels per eye (2880 x 1700 pixels combined)
Refresh Rate: 90 Hz.
Field of view: Maximum 110 degrees.
Audio: Stereo Headphone.
Input: Integrated microphones, Headset button.
Vive focus plus
Specs

| Screen | Dual AMOLED 3.5" diagonal |
| --- | --- |
| Resolution | 1440 x 1600 pixels per eye (2880 x 1600 pixels combined), 615 PPI |
| Processor | Qualcomm® Snapdragon™ 835 |
| Memory (RAM/ROM) | RAM:4GB / ROM:32GB |
| SD Card | MicroSD Slot x 1 with support up to 2TB |
Teslasuit with feedback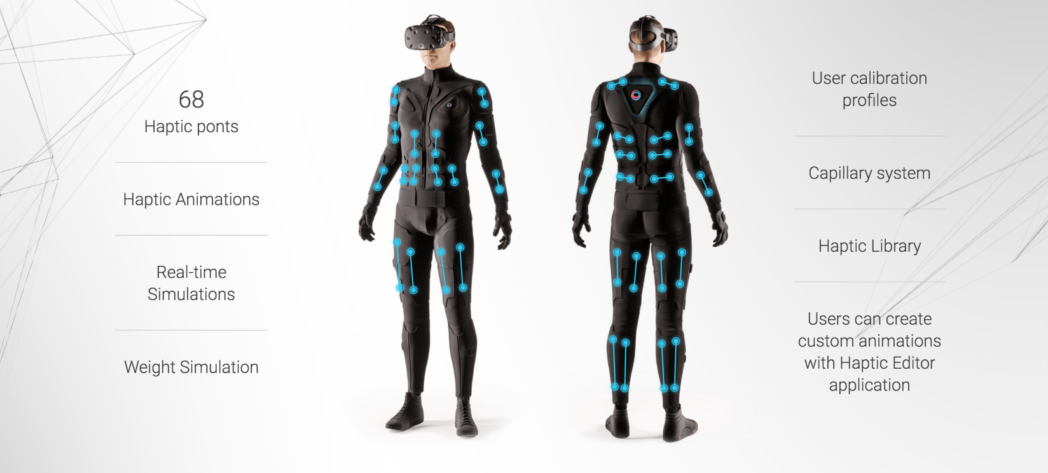 Simulate:
Temperature
Vibrations
Pressure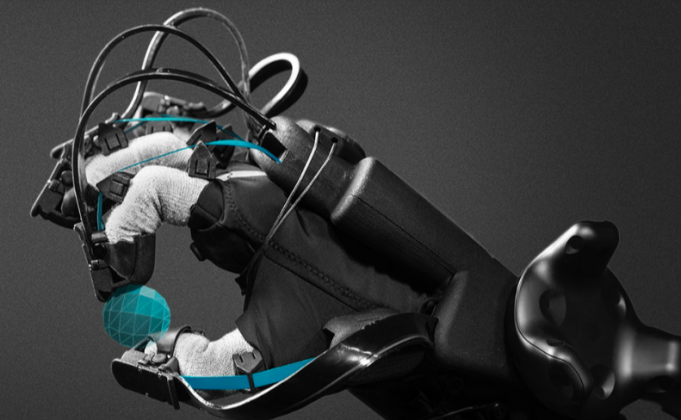 Kat walk VR omnidirectional treadmills for VR simulators