Benefits of AR presentation could be described for such solutions as:
The main advantage of augmented reality is that it adds value to your product by complementing it with attractive visual elements (including those that you cannot create in reality), engaging users in interaction with your product through interactive mechanics. This increases the quality of the user experience, and therefore the satisfaction of your customers.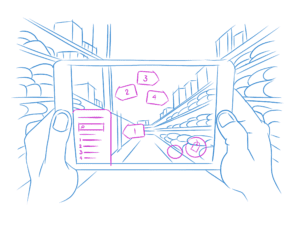 Some objects cannot be delivered or set up at an exhibition due to large size, costly transportation, or other conditions. AR presentations are great for smaller booths or when the company's products are structures or other non-movable objects.
Benefits of AR presentation :
viewing objects at different scales, scaling objects to their real size;
abstract viewing of objects (for example, the ability to view a building from all sides);
information accompanying the object (for example, infographics), detailing of information on separate parts of the object;
exploded view of an object;
viewing the object in action, in dynamics.
The augmented reality app is published in the AppStore and Google Play Market. The standard tags used in the app can be placed in publications, on printed and promotional products. This mechanic increases the reach and allows you to communicate the effectiveness of the app to a large number of people. After the presentation of objects in augmented reality format, the user can immediately order the selected object in the app.